BOOK: Ken Patera story
Ken was a US International level shotputter, weightlifter & one of first entrants in the world strongest man contest. He may be better known to you as a wrestler (if you're over a certain age). Although probably best known during his wrestling career his first love was actually lifting.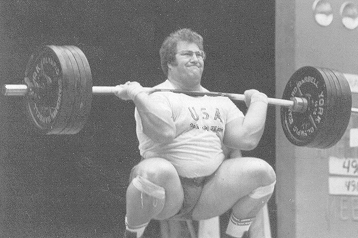 Here's a couple of routines he used I'll include the longest one I've can find included & a shorter one (all in pounds):
Usually the 3 Olympic lifts where done on Saturdays (the 3 lifts: clean and press, snatch, clean & jerk - this is before they dropped the press)
Mon Feb 10 1969
Power clean w/pushpress 235x3, 305x3, 330x3, 360x3
Slow jerk pulls 400x2, 450x2x2x2
Fast jerk pulls 355x3x3
Light snatch 235x2x2x2
Incline press (45°) 280x5, 325x3, 370x3x3
Front squat 325x3, 375x3, 425x3, 475x3
Wednesday
Rack press 230x3, 300x2, 330x2, 350x2, 370x2, 390x1
Back squat 330x5, 420x3, 510x3, 600x2, 650x1, 550x3x3
Snatch pulls 300x2, 330x2, 350x2, 320x2x2x2
Here's a few of his best lifts:
Official lifts in contest:
Clean & press 505.5
Snatch 386.5
Clean & Jerk 505.5
Total 1,397.5
Training lifts
Press off rack 535x1, 509x3
Incline press 485
Press behind neck 418.75
Power clean 501.5
Squat clean 507
clean grip high pull 585x2
Snatch high pull 462.75x2
Front squat 625x3, 655x1
Back squat 820
Goodmorning 574
Hyperextension 130x10
Roman chair sit-up 50 pounds for reps
Overhead squat with snatch grip 440.75
Clean grip deadlift with shrug at the top 740x2, 780x1
Bench press 555
Look at those lifts again, the guy was around 315 pound. Looking at the era he probably wasn't a drug-free athlete (it was legal then), but still those lifts are pretty awesome. The book shows the guy had incredible natural talent & given a different environment might have gone even further than he managed to.
One surprising fact was how quickly he could come back after a lay-off, in a few weeks he'd be hitting weights us normal folk dream about achieving in a lifetime. The gift of genetics (yes he probably took drugs, but even so if I gave you every modern 21st century aid you'd not get the lifts this guy did in the same timeframe, you & me just aren't built like that, that's a special gift).
The book was a little dry, but interesting if you like to read about how truly strong people have worked & trained then you might want to read it.